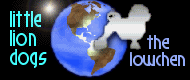 ---
You have your choice of which ring you join -
To join the first ring, just click on JOIN.
To join the RingSurf web ring please fill out the application down below.
Ring 1

Click here to join this web ring!

Ring 2

Complete form below to join this web ring
This ring is designed to link together pages for the Lowchens worldwide.
Our qualifications for membership are that you genuinely care for the future of the Lowchen breed. It goes without saying that you uphold strong beliefs and practice ethical breeding overall for the protection of this wonderful breed. Web sites that join this ring should have no missing graphics or broken links.